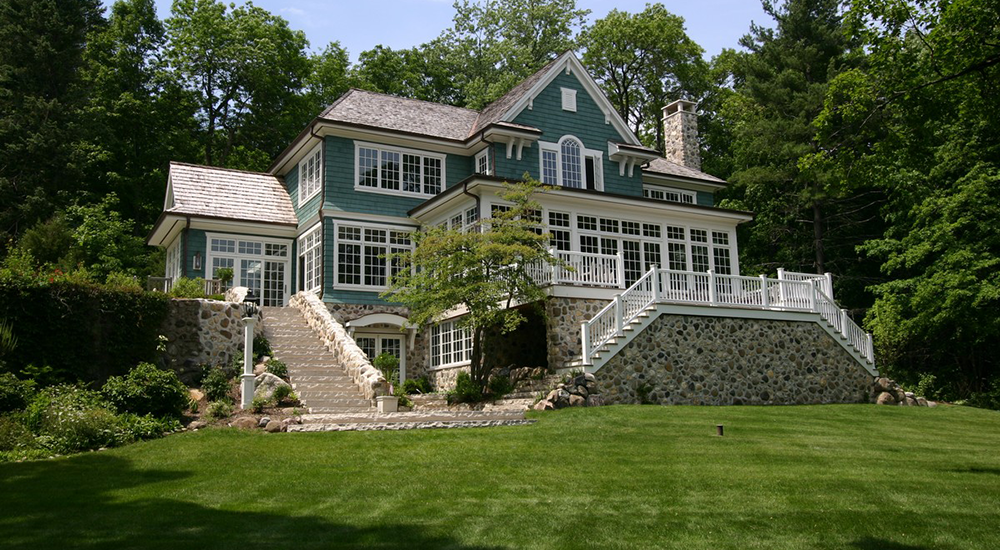 New Construction with Historic Charm
When Laura and Mitchell Thompson* approached us to renovate their family's beloved lake home, we were excited for the possibilities. Located on an idyllic setting overlooking a popular body of water in the heart of Lake Country, the early 1900s home had been through a series of misfortunate remodels that had chopped up the space awkwardly and left it devoid of any historic charm. 
As we do with all of our remodeling projects – we sat down with the family to discuss their hopes and dreams for the future of the residence. We walked together room by room, taking note of how each is used: its challenges, its best qualities and its potential for improvements. When the Thompsons shared all that they loved about the home they had enjoyed for nearly two decades – its location on the lake, their neighbors and community, the established tree canopy, and the potential to embrace better views – it quickly became apparent that too much of the home was going to need an overhaul and the best solution was to begin again. And thus, the "remodeling" project evolved into an architecture and design project for a new home – built with the nearly identical footprint of its predecessor. 
The Thompsons, however, did not want a "new" house. They wanted a home that felt like it had always been there – but with the modern conveniences and design aesthetics that embrace and empower lake life. We were exactly the right team to accomplish this. Todd Rabidoux, Lakeside's Vice President – Director of Architecture took on the project with gusto.
*Names have been changed in the interest of privacy
This historic lake home was originally built in the early 1900s.
Setting the Scene
The vision from the homeowners was a sophisticated, shingle-style Adirondack-inspired lake cottage that would provide a rustic-yet-luxurious space that engaged directly with the outdoors. With nearly 20 summers spent here already, they had specific ideas for how they wanted to better embrace lake life and its views.
The home faces east over the water: the new design features walls of windows lakeside to bring in light and capitalize on the scenery. Upon entering the house on the west – the wall of windows draws viewers into the home and towards the lake. The oversized deck was intentionally positioned lower than the year-round sitting room so that it would not obstruct the view.
The existing trees were important to retain. Keeping the glorious fieldstone retaining wall and foundation accents were a crucial design mandate. As was capitalizing on the views of the water. Coordination with a landscape architect happened early on in the planning process to ensure the new home would be seamlessly integrated into the landscape.
Additionally – the new lake home needed to have a finished lower level accessible from the exterior, which the previous home did not have.
Design Aesthetics
The couple's design aesthetic is timeless and traditional. They sought modern conveniences that blended seamlessly with their love of antiques and heirlooms. They wanted to recreate their lake home with newer, longer-lasting materials that stood up to mother nature and the test of time.
A home centered around lake life was important – but as their year-round residence, the Thompsons wanted some rooms that did not feel "lakey." High ceilings throughout the first floor help create an air of sophistication not typically found in lake homes. 
We designed a stately library and office combo room for them. A fieldstone fireplace, rich wooden walls and built-in Burmeister bookshelves hold some of the family's extensive collection of books and encourages fireside reading in the cooler months.
The home is outfitted with beautiful quarter-sawn white oak floors, slate tile, traditional wood mouldings and elegant door and cabinet hardware. Paying attention to these details was very important to Laura. These details ensured the new home not only looked timeless but felt like it had been there for generations. 
The pristine white bathrooms are timeless and classic, with hexagon tile of varying sizes that give a nod to 1900s tiles with a modern twist.
Every bedroom in the home was designed to have its own specialness – not just the master. The bedrooms offer a mix of stunning lake views, vaulted ceilings or forest settings that offer views of woodland creatures. 
The walk-out lower level includes a copious amount of storage for lake toys, mechanicals, as well as a theatre room and guest quarters. A second laundry room is located here as well, to help keep up with the summers' full of friends and fun and the laundry that comes with it.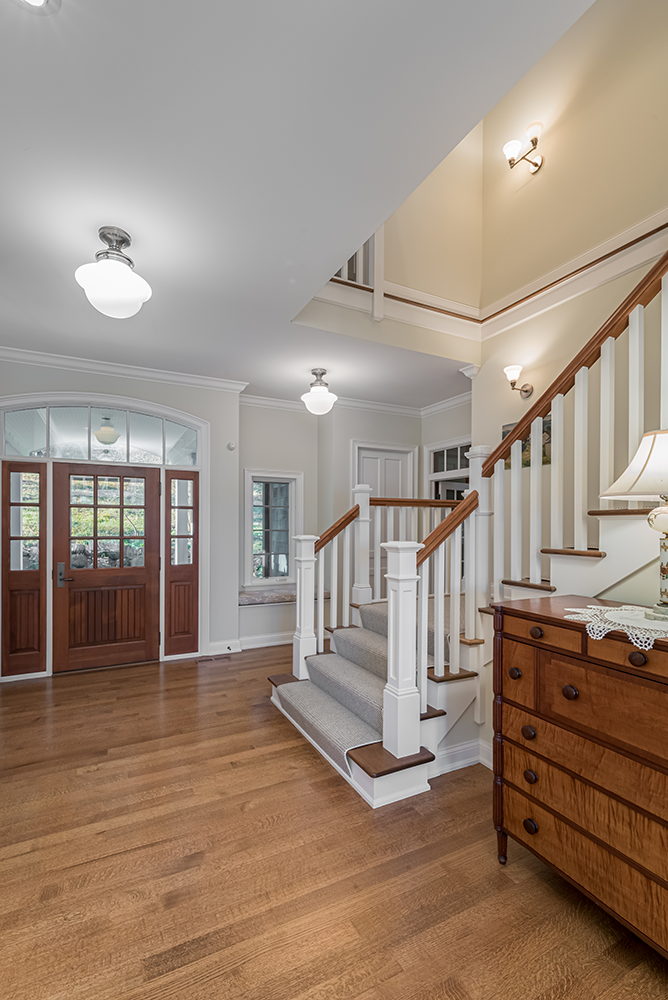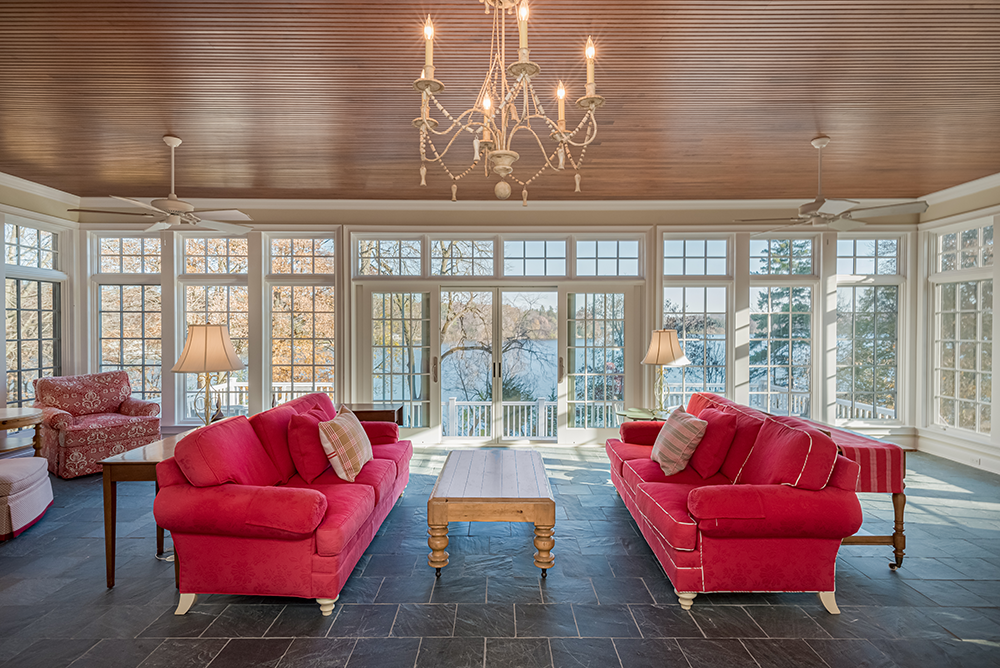 Meeting Challenges
Every new home design has challenges. "Lakeside is all about meeting challenges," says the Thompsons. Laura wanted to "hide the ugly bits" – meaning mechanicals and pipes that come out of the roof. Lakeside found creative ways to minimize these necessary elements' protrusions to keep the aesthetics of the house in line with the visions of the homeowners.
"Todd listened. He didn't say no," she continued. "My husband Mitchell understands lake life. Todd brought that to life. He looked at the design clippings I liked, and immediately picked up on my design style and preferences."
This is nothing new to Lakeside's lead architect. "I often say that I'm an interpreter. I listen carefully to what people say, and by doing so, I am able to put people's ideas on paper."
Building Carefully
When building on a sloped lake property, often tightly packed amongst other existing homes and properties on private drives, Lakeside understands how carefully we need to tread in the neighborhood.
To minimize vehicle traffic, equipment was shared by landscapers and builders.  Lakeside's construction management team even took the extra steps of installing a turn around to minimize times when the private road might become blocked by construction traffic, enforced strict work hours and contacted all the neighbors, giving them the site manager's personal cell phone number should they have any concerns. They never received a call.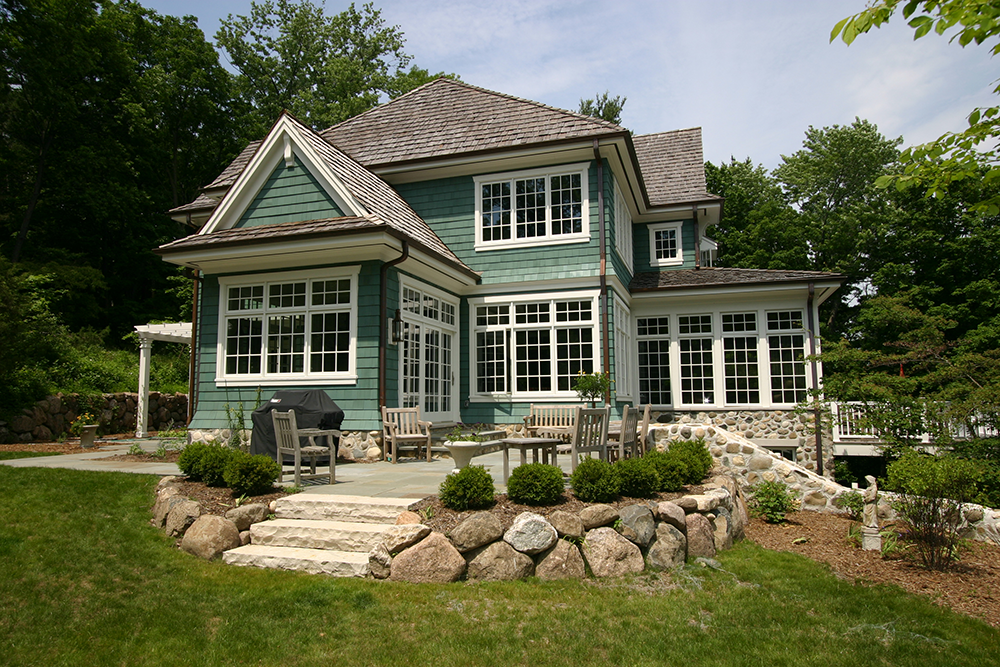 The Process & End Result
"We knew nothing about building," says Laura. "Lakeside – and Todd – listened. They communicated. They managed expectations." That meant everything to these first-time home builders. 
The final product is a home that has character, charm, tradition and style befitting of an old lake house.  "People always ask how old our house is," smiles Laura. "It's the ultimate compliment."